The products KinderSpell® offers have been selected for their quality and safety. Making responsibly selected and educational children's toys available to kids is a good way of helping them to feel at ease. They also create a relaxed atmosphere in your kids' waiting area. In addition, when you select our products, you are assured of the best service and a money-back guarantee.
Choose our company for:
• high-quality, safe and responsibly selected children's toys;
• inspiration and ideas for children's waiting areas, kids' corners, waiting rooms and play areas;
• a 14-day cooling-off period following purchase;
• a money-back guarantee;
• top-notch children's play furniture;
• child-friendly and environmentally friendly products  
Discover our range of play walls and wall panels here
Hospital children's corner or kids' waiting room play area
Children don't always feel completely at ease in hospitals, dental practices or doctors' surgeries. A bright and colourful fun play area not only helps them to relax but also makes waiting times fly by. We have more than 25 years of experience specialising in the creation of kids' corners for young children in waiting areas and waiting rooms. If you are looking for top-quality children's waiting room furniture and other equipment for entertaining kids, please feel free to browse our range of products. You can order all of our products through this website today.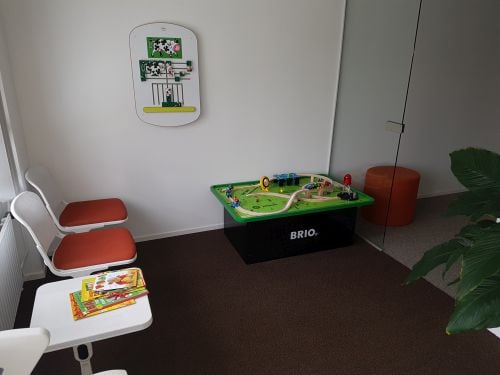 On hand to offer you advice and assistance!
Having trouble deciding on your own? Or do you have a particular question? No need to worry! On working days, our team of enthusiastic consultants are just a phone call away and will be happy to help you. As experts in our field, we can offer the very best advice when it comes to equipping children's play areas and we will be happy to share our knowledge. After all, selecting the right kids' toys for your children's waiting area is too important to leave to chance!