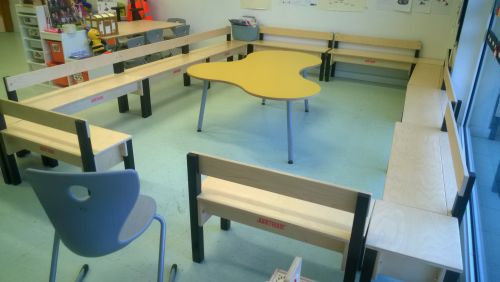 Buying safe school furniture for children
If you are planning to buy play furniture for a primary school, it is important to take not only its quality into consideration but also its ergonomic features. Safety has to be the primary consideration, so it is important to purchase only those tables, desks, chairs and stools that are safe. The material used should also be properly finished, so look only at furniture with rounded corners and shapes. Our range of JunkTrunk® play furniture meets the most stringent quality standards and is made exclusively from child-friendly and environmentally friendly materials. This means it is ideal for any school classroom at primary or junior level, as the play furniture is suitable for the 4 to 12 age range. This range of play furniture can be used to fit out entire classrooms, making it an ideal choice for primary schools.
Here you can find play furniture for kids
Equipping a preschool facility, nursery or day-care centre with play furniture and construction toys
Selecting safe furniture and construction toys for children to play on and build with is just as important for kindergartens, playgroups and other playschool environments as it is for schools. Furniture for nursery schools and day-care centres needs to be sturdy and durable, and to have a nicely rounded design without any sharp corners or edges. Young children coming to a playgroup, playschool or nursery deserve play furniture they can enjoy without there being any problems, and without you having to supervise them constantly. And it needs to last too. When buying play furniture for day-care centres, you can trust KinderSpell®. Our specialist expertise guarantees that you will never need to worry about the little ones in your charge. And that's a comforting thought!
Educational construction toys for day-care and preschool centres
There are many types of educational and early-learning toys available for helping young children to develop their skills. As a specialist in preschool and day-care construction toys for young children, we recommend the sets manufactured by GONGE, the educational branch of the well-known Danish toy manufacturer. The GONGE educational range stimulates the development of gross motor skills, as well as promoting role play between children of the same age. 
Buy today and we will ship today!
All of our play furniture, construction toys and educational toys are despatched from our central warehouse. As we guarantee that products are always in stock, we are able to despatch your order on the day it is placed, meaning that, in most cases, it is delivered to your primary school or play centre within just a couple of days. After receipt of all of the goods ordered through our webshop, you will receive a separate invoice to be paid within 30 days.
Contact us
Need a quotation or perhaps more advice? Just contact us!
We understand that in some situations a quotation or personalised advice is required. If you are interested in any of our classroom sets, we will be happy to provide you with a customised quotation. If you would like to fit out a primary school, or a kindergarten, playgroup or other institution for day care using specific play furniture and construction toys, we will be glad to help you with detailed recommendations. Our office-based consultants are on hand every day to answer any questions you may have. They know all about our school and preschool play furniture and construction toys and can advise on the right solutions for you over the phone, helping you to make a suitable selection. And if there are still any doubts in your mind, you can always invite one of our on-the-road representatives to visit you, as they will be able to provide detailed and personalised advice.