Discover here all our products and ideas
Play corner in a restaurant - lingering after dinner

If you run a restaurant, it is important that you encourage guests to linger as long as possible after dinner, and preferably order a few more drinks. As children easily lose patience in such circumstances, it is prudent to offer them a corner of their own, where they can play games with their peers. Quite a small play corner generally suffices in a restaurant, whereas a hotel would be better advised to set up its own playroom, which can then be equipped with a play table, play panels, soft building blocks and other games. Our website features a more than ample range of products that fit both in your play space and within your budget.
Children's play corner library or town hall

It is also essential that public buildings continue to devote attention to the professional reception of citizens. And this naturally includes children. Children regularly accompany parents to the library or the local Civil Affairs department. Saturdays and Wednesday afternoons can be particularly busy, as large numbers of children accompany their (grand) parents or childminders on a visit. On such occasions, failure to provide a play corner for children is a missed opportunity. And providing such facilities does not necessarily call for a major investment: something as simple as an instructive wall puzzle, for example, can work wonders. As a specialist in public children's play corners, KinderSpell® offers you appropriate sustainable and educational products.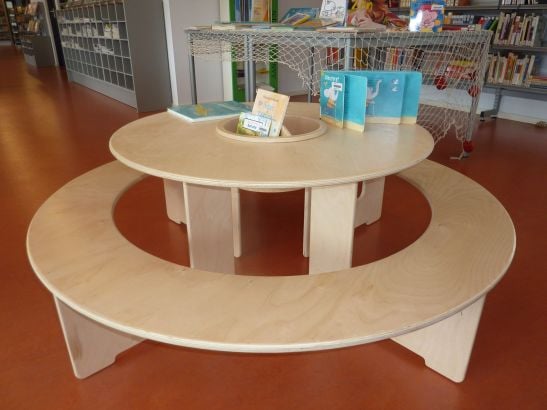 Interior design of a children's play paradise or an indoor playground

Children are the focus of particular attention in the leisure industry. This calls for use of the safest and most child-friendly materials when setting up a children's play paradise or an indoor playground. Especially for this category, we have a highly appealing range of large soft building blocks made of rubbery material that are not only 100% safe, but also virtually silent in use. This is a major benefit, particularly in the case of indoor facilities.