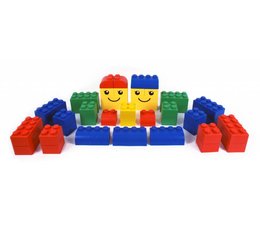 Giant Building Bricks
Large lego blocks for toddlers and kids, 42 pieces. Certainly these wise big blocks! Due to the soft rubber material, these extra large lego building blocks are extremely safe. Yet they hold together very well and kids can build great models, structu...
Article number: 9025
Delivery time: 3 to 4 days
14 days time to consider purchase
14 days right to return order
Not satisfied? Money-back guarantee!

Large lego blocks - type Wise Big block®


Large lego building Blocks (brand Wise Big Block®)
Thanks to the safety of these large Lego blocks, this is the ideal choice for equipping day-care centers, early years institutions and public play areas in stores, waiting rooms, hotels, libraries, etc.. These large rubber lego blocks for toddlers and older children are almost noiseless and do not cause any scratches on floors and walls.
Large lego Blocks set with 42 Wise Big Blocks
This base set comprises 42 large construction blocks in 4 different primary colours. In addition to eyes and mouths (ideal for creating huge figures or animals), the set consists of:
- whole bricks (2 x 4 studs)
- half bricks (2 x 2 studs)
- whole roof tiles (1 x 4 studs)
- and of course half roof tiles (1 x 2 studs).

This unique extra large lego blocks (type Wise Big Blocks)  will make children's hearts pound faster!
Age Indication: 2 - 8 years
Dimensions: Brick 2 x 4 studs: 19,5 x 9 x 7 cm
Number of blocks: 42