Products tagged with DUPLO junior techniek
This DUPLO toolo set (DUPLO 45002) with screwdriver and machines is perfect for creative young designers and engineers. This LEGO DUPLO Toolo vehicles set is ideal for free play or as a tool to get children excited about simple sci...
This LEGO DUPLO Early Simple Machines Set is a fantastic starter set for introducing science and design technology concepts. Children in primary schools will learn how familiar objects work by designing their own models.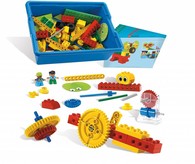 This DUPLO early technology set is the ideal starting point to teach pupils all about solid and stable shapes, structures and buildings. To this end the set comprises also special elements like hooks, strings, pulleys, axles and many others.