Brio wooden train table set deluxe. Complete wooden railway system train table with belonging wooden train set. Delivered in UK and Ireland with the original Brio trains as well as an indestructible frame.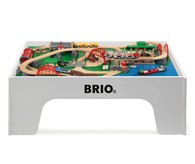 A Brio play table and train set puts a smile on children's face. With this completely new and compact table you acquire a masterpiece of kids furniture including display and frame, colourful base plate and of course the famous Brio trains...
This Brio train table set for toddlers and kids. This set convinces in terms of quality, finition and completeness. Children will become exuberant as soon as they observe one of this most complete brio train table set. Includes a solid framework, a c...